The MINI Electric Hardtop 2 Door
THE FIRST ALL-ELECTRIC MINI
THE 2021 MINI COOPER SE HARDTOP,
STARTING AT $29,900
We've combined our legendary design with all-electric power to create an energetic drive you'll have to feel to believe.
This MINI Electric is fully loaded with premium standard features like Apple CarPlay™, Active Driving Assistant, and heated front seats for $29,900 or less after potential tax credits. Who knew sustainable driving could be so much fun.
Save money when you go the distance. Between tax incentives (up to $7,500 through a Federal tax credit and possible state and local incentives) and electric charging in lieu of pricing, you're saving a lot of dough down the road.
We've taken our standard features up a notch and packed our electric with Apple CarPlay™, Active Driving Assistant, heated front seats and more. We want you to look good and feel good when you drive your MINI.
---
BE THE FIRST ON YOUR BLOCK
An electric race car that has fun, go-kart handling.
A legacy of fearless engineering.
The world is waiting, let MINI take you to your next adventure.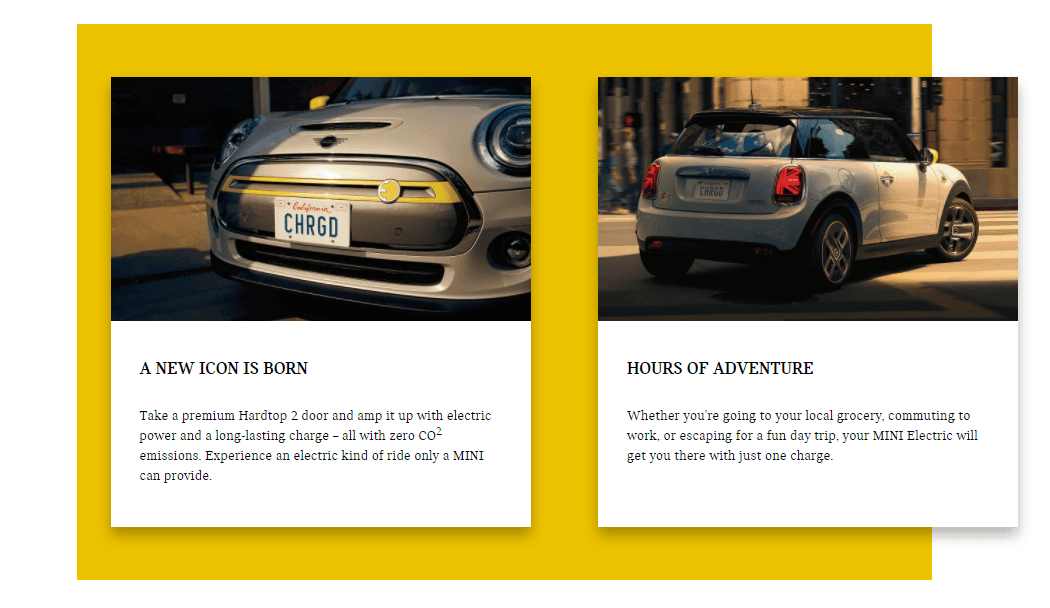 ELECTRIC NEVER FIT YOU BETTER
We believe purchasing an electric vehicle shouldn't mean making compromises. The MINI Electric has everything you'd expect, with the unexpected twist of all-electric power. Drive more, wait less, and stay behind the wheel to get wherever you want to go.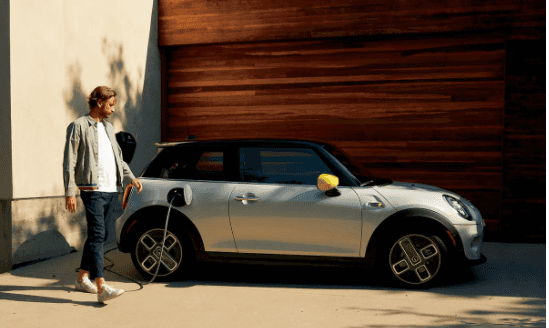 EASY, FAST CHARGING
CHARGE AT HOME-
Leaving the house on E is so outdated. Use the charging cord that came with your car anytime you like in the convenience of your own home – the car plug outlet is any standard three-prong you currently have.
Explore Home Charging Solutions with Amazon
PARKING WITH POWER-
Grocery stores, malls, city centers, and anywhere else, really. Public charging stations are popping up everywhere, so you can live your life and power up at the same time.
Charging the 32.6kWh battery to 80% can take as little as 35 minutes through a DC fast-charging station. Not pressed for time? Feel free to plug into any 120V outlet with the included charging cable, or at any level 2 charging spot. Plus, the battery is situated deep in the floor, so it doesn't affect the luggage compartment and keeps the vehicle light for an even sportier ride.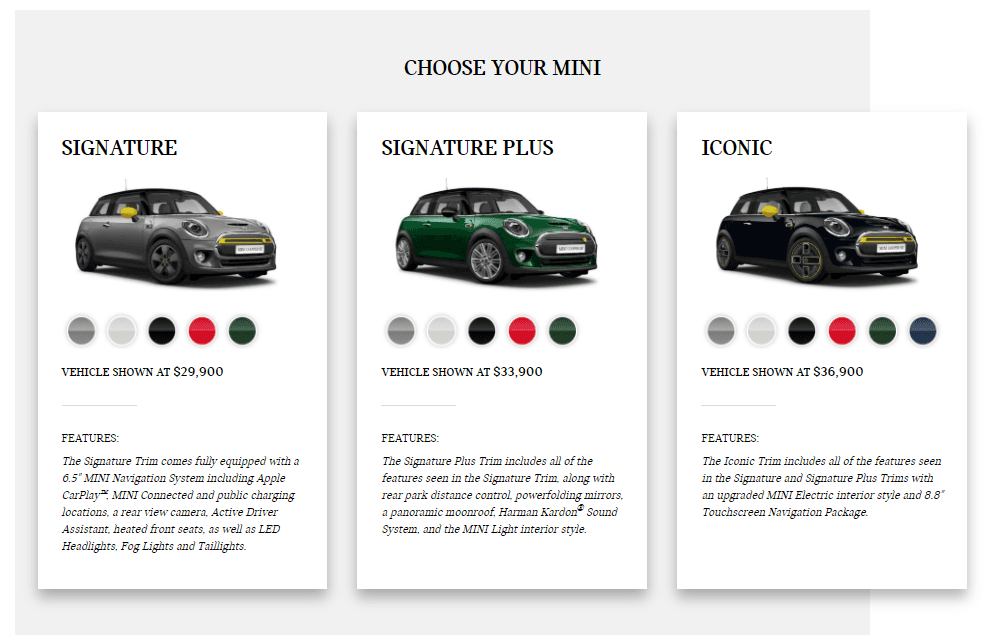 SIGNATURE
Price starts at $29,900¹
-$7,500 Federal Tax Incentives*
-$2,000 Additional Incentives (see terms + conditions)
$20,400 After Potential Incentives
ADDITIONAL SAVINGS:
AVG $4,000 fuel savings over 6 years
---
SAVE GREEN BY GOING GREEN
The all-new MINI Electric is one of the most affordable premium EVs on the market. With a low starting MSRP, there are additional ways to save even more. Paying for gas and oil changes are a thing of the past. You'll also be eligible for potential Federal, State and local tax credits.
*The effective tax credit depends on your tax situation. We recommend consulting a tax professional to validate credit availability and eligibility. While MINI does its best to keep this information up-to-date, it cannot guarantee the current accuracy or your eligibility. For available federal, state and local EV incentives, we recommend you visit https://www.energy.gov/eere/electricvehicles/electric-vehicles-tax-credits-and-otherincentives
The average US resident drives 13,476 miles per year and spends about $1,262 on gasoline. In comparison, the cost of electricity to power the MINI Electric Hardtop 2 Door is less than half that. Over the six-year average length of car ownership, that's about $4,446 in gasoline savings.