PADDY HOPKIRK

SPECIAL EDITION MODEL | STARTING AT $32,720*
MINI COOPER S HARDTOP 2 DOOR: PADDY HOPKIRK EDITION
---
AN ICONIC CAR FOR A VICTORIOUS DRIVER.
This MINI has it all: flash, fame, and respect. The Cooper S Hardtop 2 Door in Chili Red with White contrast roof, and infamous 37 on the door honors both MINI's winning racing history and legendary driver, Paddy Hopkirk.
*European model shown with additional equipment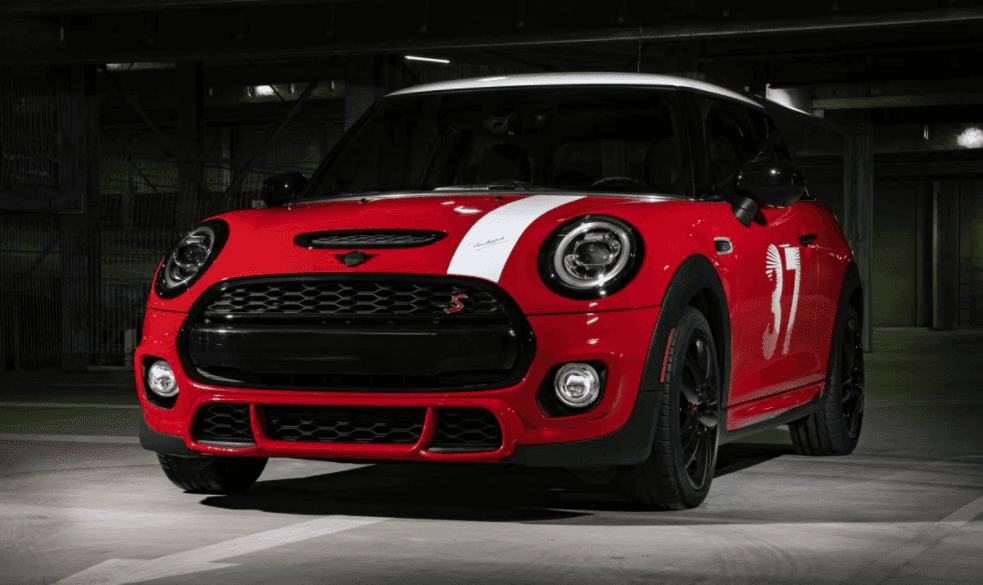 #37 IS BACK ON THE STARTING LINE
---
It's been 56 years since Patrick "Paddy" Hopkirk and his classic Mini Cooper S clinched the first of three overall victories at the legendary Monte Carlo Rally. We're celebrating our winning racing history and honoring Paddy with an edition model incorporating exclusive design and equipment features marking one of the most spectacular achievements in international motorsport history.
STANDARD PREMIUM FEATURES
---
Your MINI Cooper Paddy Hopkirk includes Aluminum foot pedals, and aluminum accented 6-Speedgear selector. Additionally, you'll find a Dual Panoramic Moonroof, Heated Front Seats, Dual Zone Climate Control, Harman/Kardon Sound System and Sirius XM with 1 year All-Access. The included 6.5" Touchscreen Navigation Package features MINI Assist eCall, TeleServices, Advanced Real-Time Traffic Information, Remote Services, Apple CarPlay, Enhanced USB and Bluetooth, and Dynamic Digital Instrument Cluster.
— FEATURES —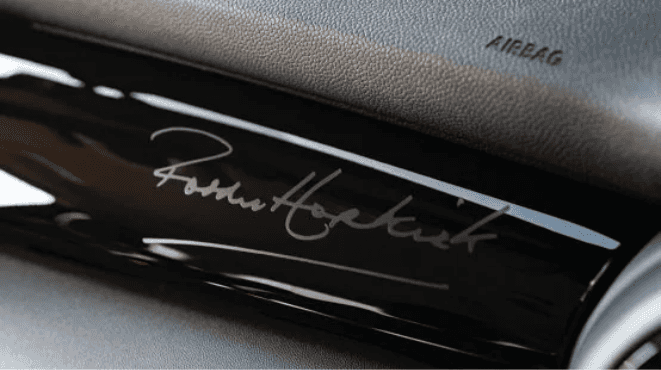 UNDENIABLE RACING INTERIOR
---
Jumping into the driver's seat of the Paddy Hopkirk Edition feels like you'll be racing around Monte Carlo in moments. You'll feel the comfort of the John Cooper Works Carbon Black Dinamica/Cloth seats and matching steering wheel while the triumphant Paddy Hopkirk autographed dashboard and LED Illuminated Door Sill will always remind you of what winning feels like.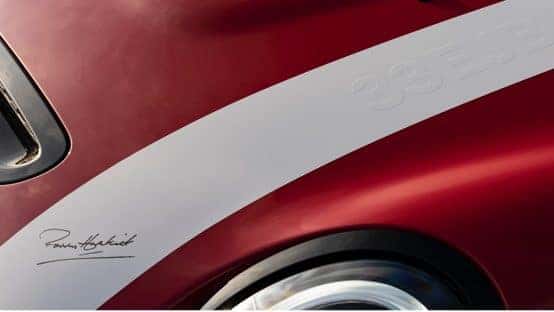 SHOW STOPPER, RACE WINNER
---
We took the classic color scheme from Paddy Hopkirk's MINI and revved it up even more. The contrasting Chili Red paint, White Roof, Black Mirrors, Black 17" Track Spoke wheels, black bonnet scoop, and iconic number 37 on the doors and side scuttles are sure to turn heads. You'll also notice other unique features like the number plate from the 1964 Monte Carlo winning MINI, 33EJB, and Piano Black Badges, Grille Surround, and Door Handles to complete the look.
Dealer Direct
With the Paddy Hopkirk Edition continuing to arrive at showrooms, we wanted to share the inspiration behind the vehicle fueled by the passion of MINI Product Committee Chairman Gary Daniels, along with a look at his impressive classic MINI fleet.
Honoring MINI's Heritage
Together with members of the Product Committee and MINI USA leadership, Gary visited MINI headquarters in Munich in 2019 to meet with Global Head of MINI Bernd Koerber and receive a glimpse into future development plans. The open, productive dialogue led to a discussion about moving the brand forward during a period of product transition.
"The team in Munich was very interested in our ideas. When the subject was brought up regarding special edition models, my first thought was to emphasize the importance of MINI's heritage and suggested they consider using Paddy Hopkirk, MINI's leading spokesperson worldwide, for a future special edition," said Daniels. "To my surprise and delight, they not only took my idea into consideration, but acted on it. I am grateful to Bernd and his team for listening and their desire to build the MINI brand on the foundation of its rich heritage built, in many ways, by Paddy."
Shared Bond, Passion with a MINI Legend
Gary met Paddy for the first time in 2018 when Paddy was invited to Watkins Glen International to serve as grand marshal for their Hilliard U.S. Vintage Grand Prix. Following the event, MINI USA and Paddy's team arranged for him to visit Gary's dealership, MINI of Allentown, to participate in a customer event.
"Paddy and I had an instant connection from the start. Our entrepreneurial drive and shared passion for MINI was evident in the several days we spent together at the event and dealership. The turnout was fantastic and Paddy engaged everyone in attendance through his storytelling and signing autographs," said Daniels.
The bond was further strengthened during Gary's 2019 trip to the UK.
"I was fortunate to travel on a five-hour drive with him behind the wheel to a town in Southwest England, where he led a discussion on driver safety. The journey gave us time to reflect on many of his achievements and life in general. Paddy is tireless, remains humble and is extremely honored to have this special edition named after him. I only hope I have his energy and drive when I am 85," added Daniels.
Paddy Hopkirk proudly poses next to the vehicle honoring his legacy.
Gary's Classic Fleet
Gary started to collect MINIs 15 years ago and it quickly became a passion point – or an obsession according to his wife. The first vehicle in his collection was a 1968 Innocenti Mark II named LUIGI which spends most of its time at the MINI of Allentown showroom.
Enjoying this vehicle so much, he decided to build a rally replica of #177, the 1967 Cooper S that won Monte Carlo, following a visit to Helsinki where he spent four days with famous MINI rally driver Rauno Aaltonen. After a two-year restoration, it participated in MINI TAKES THE STATES in 2016. MONTE is also on display at the showroom.
Gary found a rare 1962 Speedwell Engineering-prepared MINI Minor, an aftermarket company specializing in MINIs owned by famous Formula 1 driver Graham Hill. Originally a race car on weekends and driven to work during the 1960s, the vehicle has been restored, painted in its original Fiesta Yellow color with the original baby blue interior and appropriately named FIESTA.
His impressive collection also features a 1975 Innocenti Mark III named DINO, 1965 MINI Minor named HATHERLEIGH, first generation 1996 GP and 2021 JCW GP. Next up is a 1961 MINI Cooper which is currently being restored by the dealership's talented Certified Collision Center team.
With all of these vehicles, it's challenging for Gary to pick his favorite. "All MINIs are fun to drive, but each one has its own unique personality so I enjoy them all as much as possible."